Please check travel restrictions before booking. The health and safety of our communities come first. Follow government recommendations and travel only when necessary. Zona Hotelera Ixtapa
Cala de Mar Resort & Spa
Nature unity with luxury and well-being.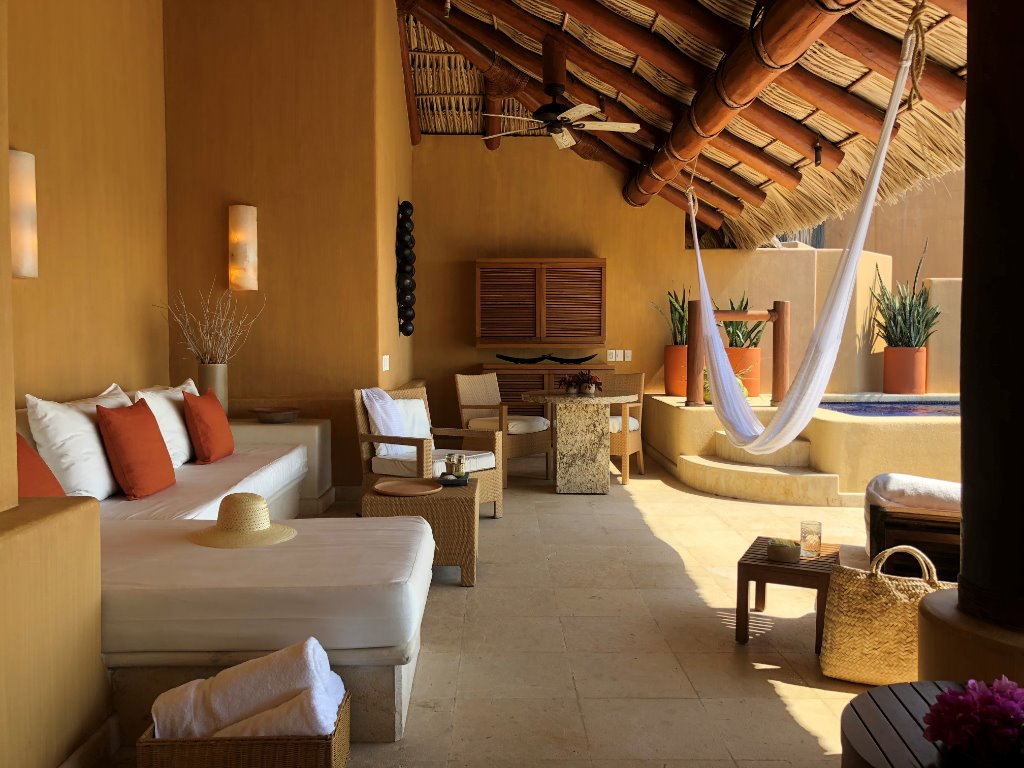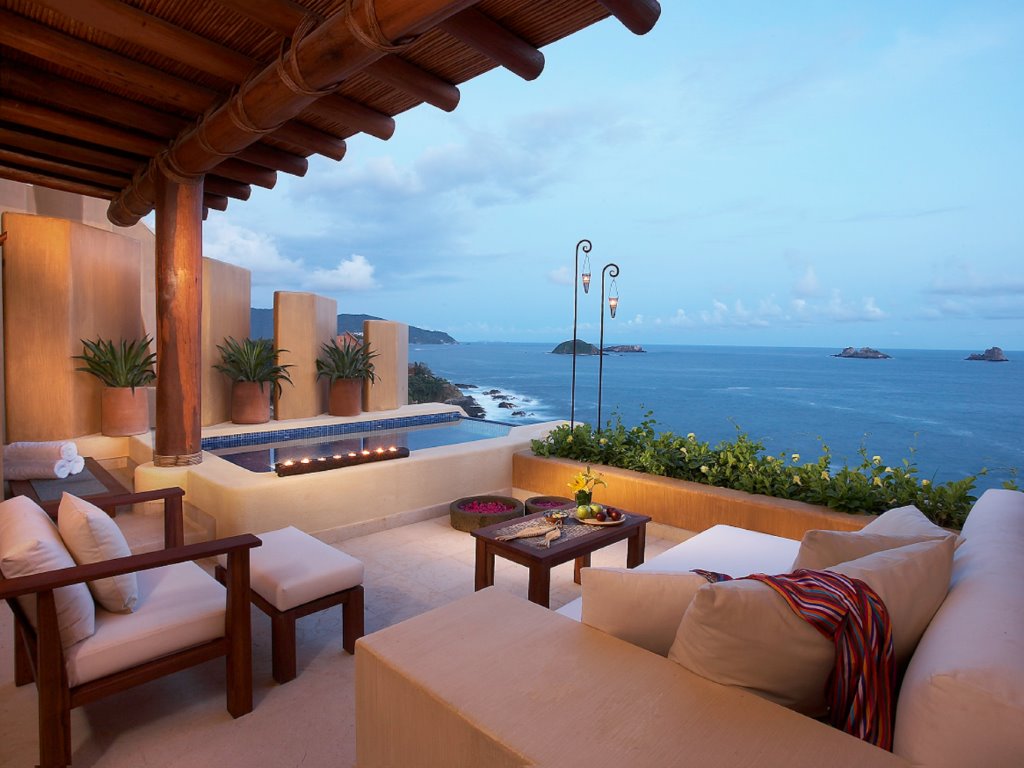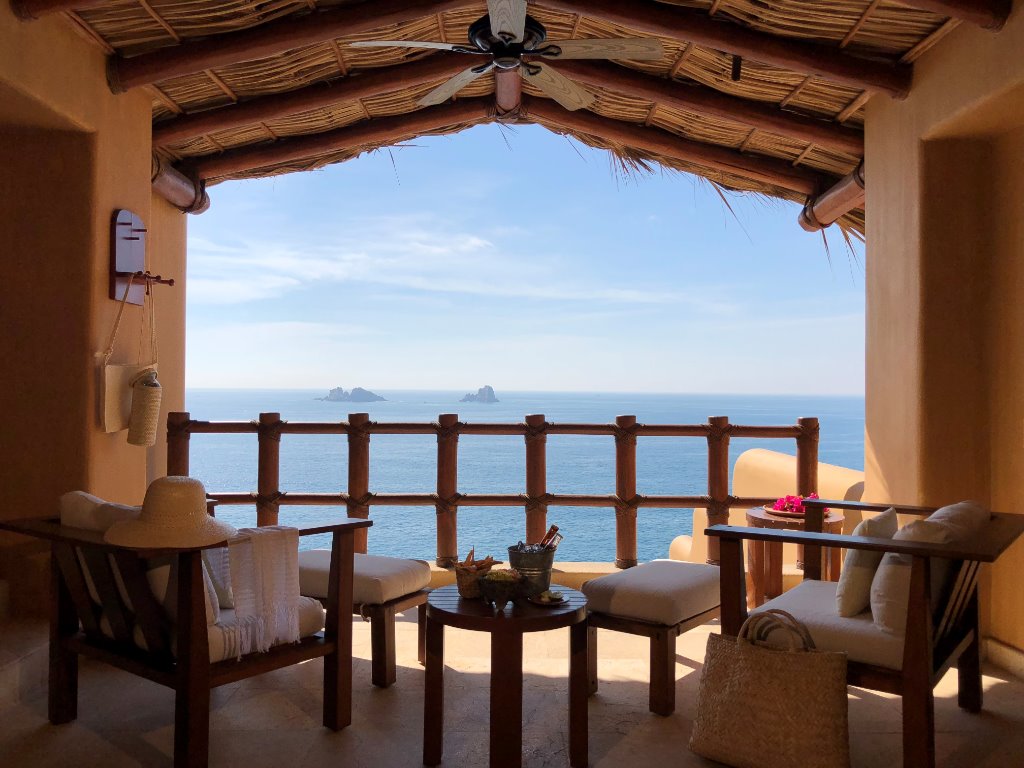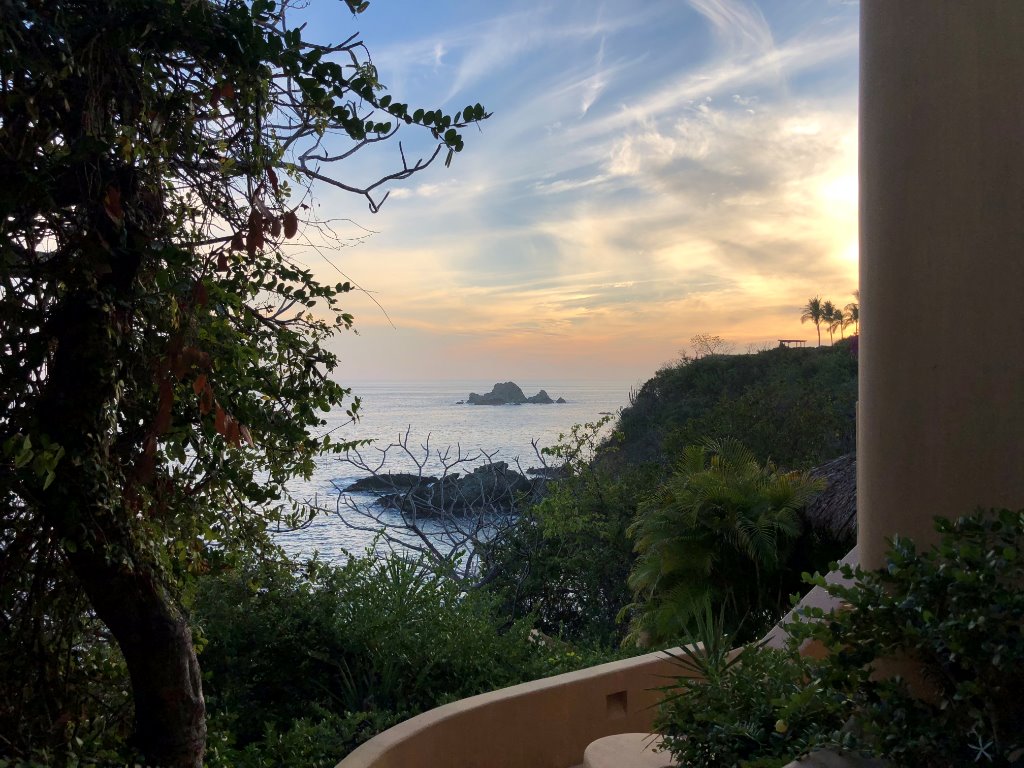 General Description
Tucked into a dramatic cliffside setting between the Sierra Madre Mountains and the Pacific Ocean and surrounded by a lush, tropical forest, Cala de Mar Resort & Spa Ixtapa is one of the most romantic and exclusive 5-star resorts in Mexico.

With spectacular Pacific Ocean views, our 59 suites cascade down a cliff toward the sea, each boasting airy oceanfront terraces and individual plunge pools thoughtfully positioned out of sight from other suites.

​Ranked by Travel & Leisure's World's Best Awards as #2 of 'The Top 10 Resort Hotels in Mexico' and #30 of 'The Top 100 Hotels in the World' this unforgettably secluded and private Ixtapa resort caters to the world's most discerning travelers with gourmet dining in four captivating environments, an award-winning spa and fitness facility, beach wedding locations and more.
​At every moment of your stay, your dedicated Personal Assistant is available to see to any request, from extra towels for your room to arranging a cooking class with a professional chef or a full day of exhilarating activities and excursions in Ixtapa.

Come find the 5-star Mexico vacation of your dreams at Cala de Mar Resort & Spa Ixtapa, where getting away from it all reveals a bounty of unsurpassed beauty.
Facilities
Discover the different facilities that the hotel has at your disposal during your stay.
LAS ROCAS RESTAURANT
The open-air and casual Las Rocas is located poolside with spectacular ocean views. Enjoy breakfast, lunch and international and Mexican specialties throughout the day. Start your day with the "Cala de Mar Breakfast," which includes a mimosa. Serving breakfast and lunch.
TERRACE BAR
Tapas and botanas are served at the resort's three-tiered Terrace Bar, which offers breathtaking sunset views across the Pacific Ocean. Choices include a variety of small plates, a Pacific Kitchen featuring the culinary art of ceviche, sushi and sashimi and a full-service bar. ​The Terrace Bar is also home to the resort's Tequila Room – a unique, iron-gated indoor exploration of 65 of the region's best 100% agave single barrel and Anejo tequilas. Guests can pair white, rested and aged tequilas a
THE SEAFOOD MARKET
This rustic seafood restaurant creates a true sense of place and cultural ambiance with local artisan pottery, floor candles and a fire pit. The grill serves the bounty from the surrounding waters, cooked on the spot, with the local fisherman's catch of the day handwritten on a chalkboard. Guests savor truly customized dishes, deciding on the cooking method and sauce used to grill their preferred fish. Open for dinner from 7:00 p.m. ​​​
A MARES RESTAURANT
Cala de Mar's climate-controlled fine dining room is the only air-conditioned restaurant in Ixtapa, affording stunning views of the Pacific Ocean. A Mares turns fine dining into a culinary art with cuisine that features refined and refreshed Mexican dishes.​ ​The menus change on a regular basis to highlight the freshest seasonal ingredients, and a variety of wines from around the world that pair perfectly with the cuisine. Elegant resort wear is requested. Open for dinner from, 7:00 p.m.
SPA EL CAPRICHO
At 6,000 square feet, the Spa at Cala de Mar is as intimate as it is luxurious, limited to five private treatment rooms, with shutters that open to the breathtaking ocean views and fresh coastal air, and an open-air massage area that takes full advantage of the idyllic climate. In keeping with the hideaway nature of Cala de Mar, which gives the 59-room Mexico resort special appeal to couples, the spa also features a private room designed exclusively for treatments à deux. Each treatment room is
TEMAZCAL
Drawing inspiration from ancient Aztec healing traditions Cala de Mar opened recently a temazcal ([temasˈkal]). Temazcal is a type of sweat lodge in the shape of a circular dome which originated with pre-Hispanic Indigenous people. In ancient Mesoamerica it was used as part of a curative ceremony thought to purify the body after exertion such as after a battle or a ceremonial ball game. Enjoy the privacy of our very own Jatsima Temazcal dedicated to the Ocean Mother.
MEDITATION ZEN ZONE
Practice Mindful Meditation at Cala de Mar's Zen Zone. Trained by Mexico City based meditation expert, Maria Cristina Babatz, Cala de Mar provides a specific type of meditative training to the entire resort, while leading ongoing meditation sessions and workshops for guests.
GYM
Our gym is located at the very top of our central building and offers a breathtaking view of the Pacific Ocean to inspire your workout. The gym at Cala de Mar offers: Static Bicycles Elliptical Trainers Treadmills Free Weights Stability Balls Yoga Mats
*Amenities with extra cost.
Groups and Conventions
Host Your Successful Meeting at Cala de Mar Ixtapa, Mexico

For a corporate retreat or an intimate event in Ixtapa, where the crashing and soothing sounds of the waves act as your soundtrack, Cala de Mar Resort & Spa is one of the most inspiring meeting venues in Mexico. Our restaurants will create the ideal menu, while the surf, sand and sun paint the perfect backdrop.

Whether a small meeting or a larger event, the trained and dedicated staff of service experts at Cala de Mar Resort & Spa are on-hand to plan every aspect of your retreat or meeting. We work with you throughout the planning process to ensure that your meeting is considered an unrivaled success. Cala de Mar Resort & Spa has a meeting facility on the premises, along with our outdoor terrace, restaurants, and pool areas to create the perfect setting for your event.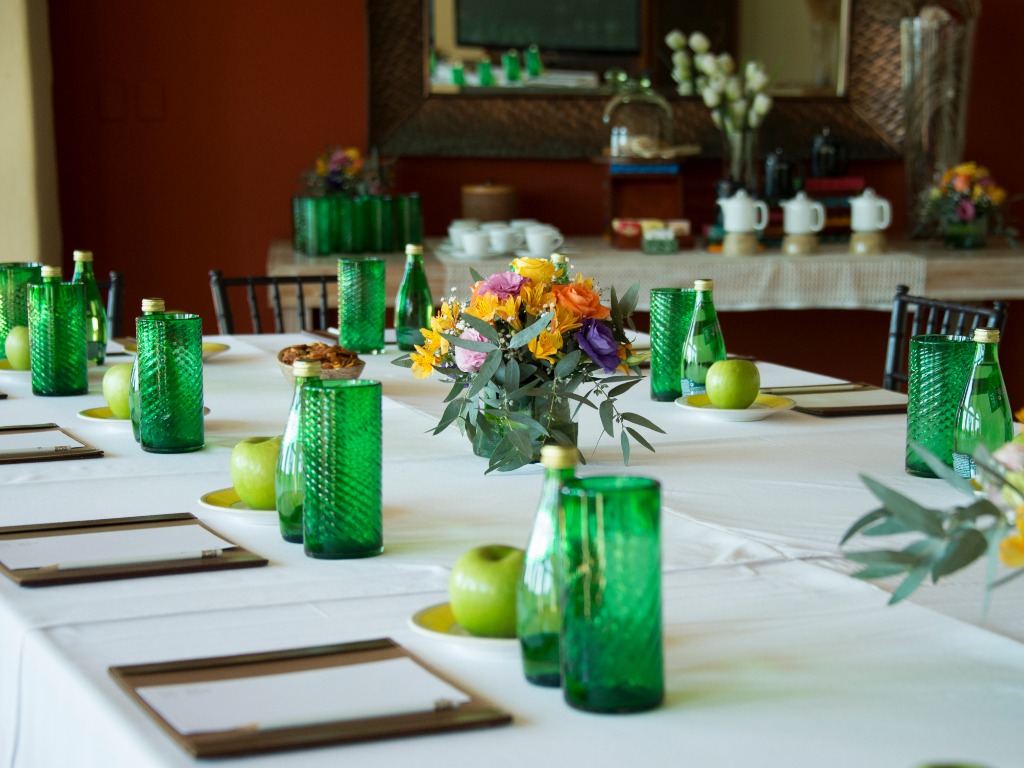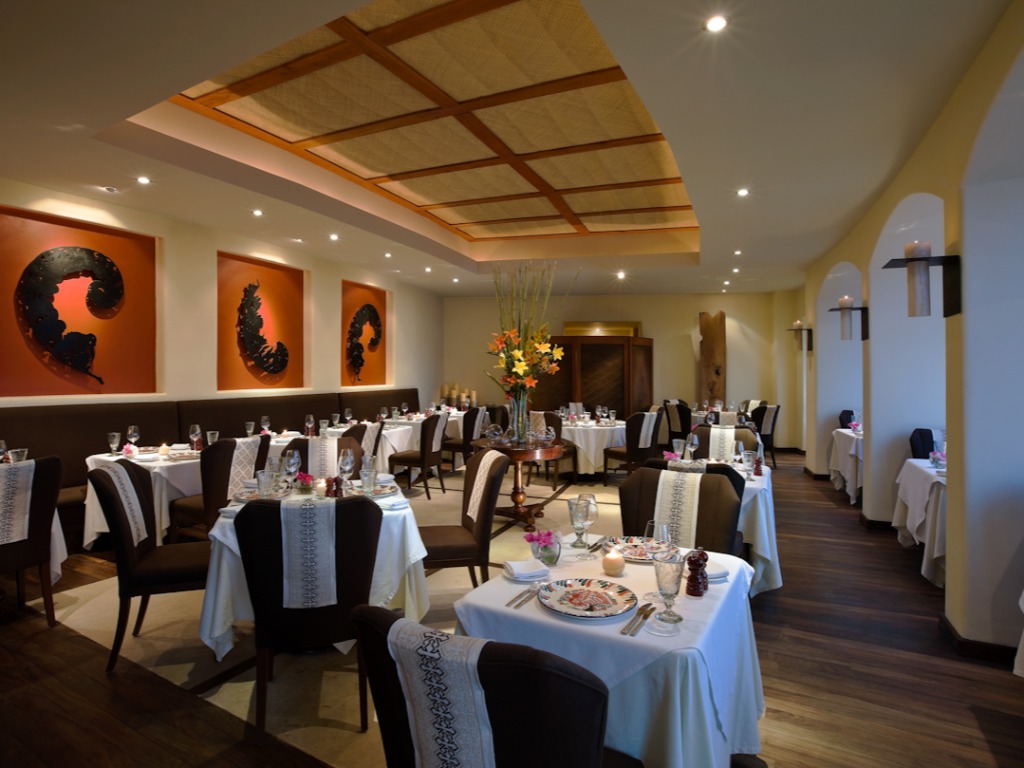 Wedding Experts
Have Your Special Mexico Wedding Day With Us

The white beaches and azure ocean views of Cala de Mar Resort & Spa Ixtapa create the perfect venue to celebrate with an intimate ceremony or reception held cliffside. The ideal resort for destination weddings or vow renewals, we can accommodate events of up to 120 guests. The resort's secluded and exclusive location also provides the perfect honeymoon hideaway for couples looking for a romantic escape.

Our staff are experts in Ixtapa Weddings, and will work with you to create the ideal wedding package, from ceremonies defined by the rich heritage of Mexico, to modern, casual beachside affairs. With three on-site restaurants to host your ceremony and reception, intimate affairs are our specialty.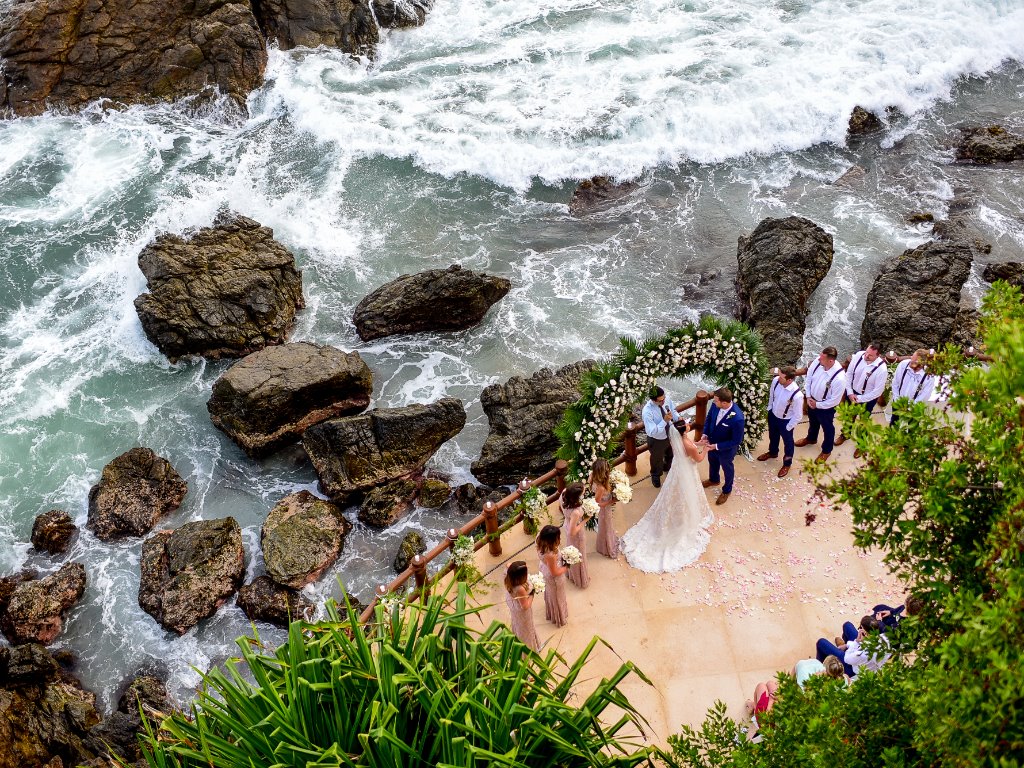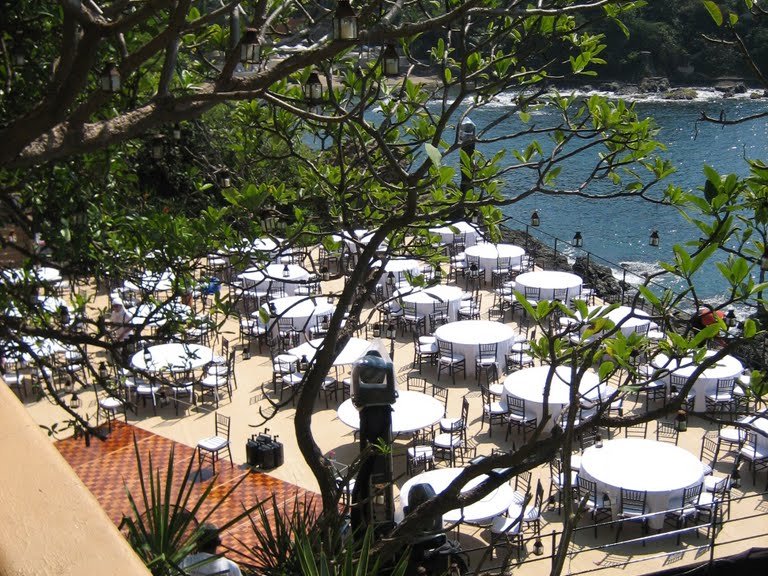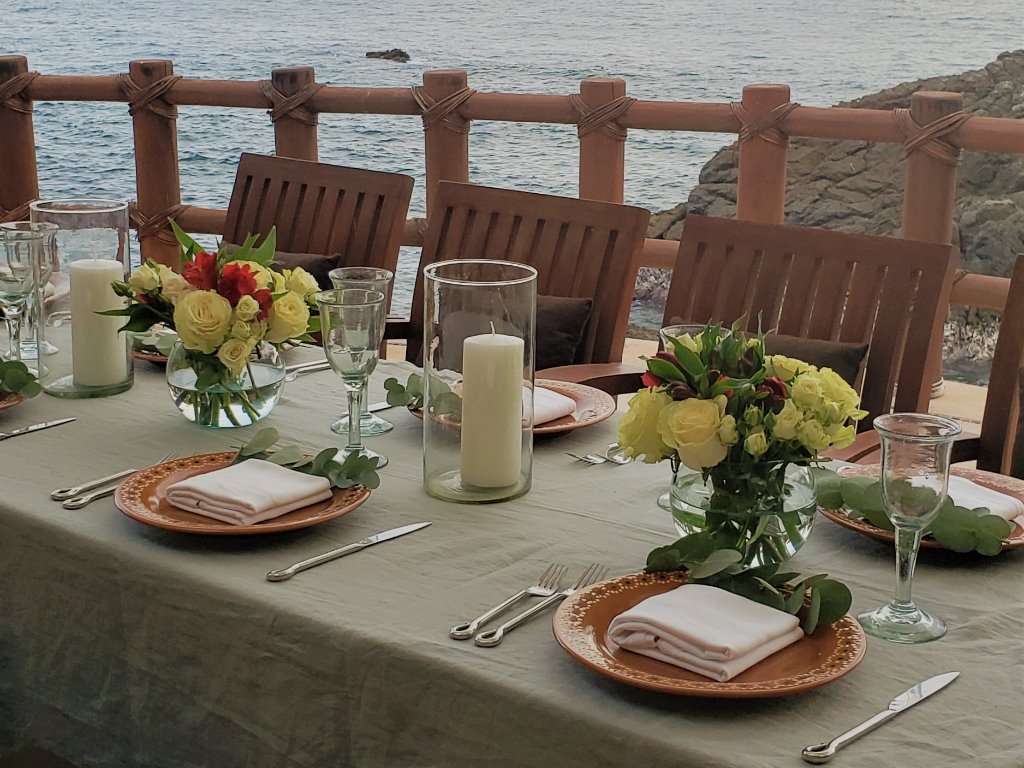 Address
Paseo Punta Ixtapa S/N, Zona Hotelera II, Ixtapa Zihuatanejo, Gro. 40880
Contact us
Reservation Request
If you have any questions or require a quote, we are at your service.
Make your reservation
Book
Now
Make your reservation online and worry no more, we will take care of it. Contact
For any questions or more information, contact us through our form. We will be happy to help you.
Means of Payment
Al lreservations must be guarantee with a valid credit card. We accepted VISA, MasterCard and American Express.
Reservation Policies
All the reservations should be guarantee with a valid credit card at the time of booking. Changes and cancelllations are under availability and seasonality.